Mayo v Galway Pre-Liminary Q-Final 2023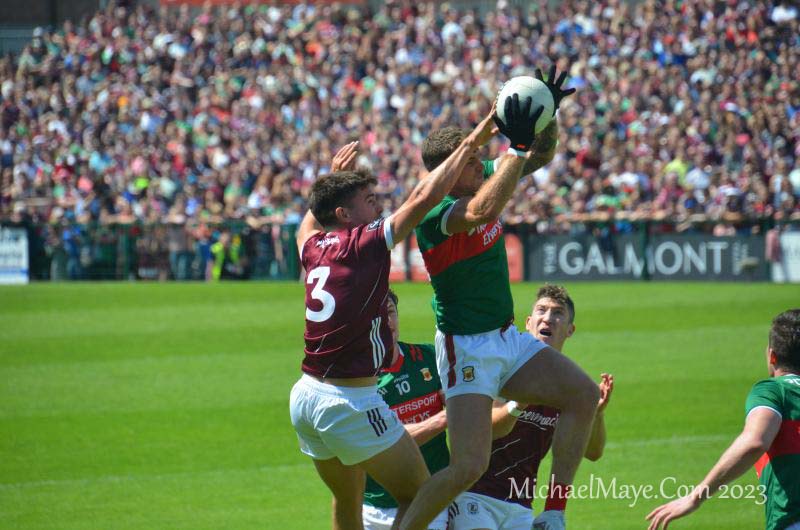 Well, what can I say? A win is a win and all that! By no means the prettiest games of football, but we came out winners. Typical, typical Mayo and a game of "2 halves".
We were on the road early at 11am (or so I thought, thanks by the way to my pilot, my niece Sarah). I was checking in with friends that were already there, queuing before 12, gates not open till 1. This was real summer knockout championship. We got into our seats in the stand around 1.10, and were feeling quietly confident. Chatting to some friends beside us, they were feeling quite nervous.
Maybe its age, or just battle hardiness weariness, but I was feeling quite indifferent going into this match. I knew we were a better team than our last performance against Cork down in Limerick last weekend. Knockout championship is a very different beast!
In saying that, at half time I won't say, what was going through my mind! This match really was, a game of 2 half's. We only scored 3 points in the first 35, against the wind and 14 behind the Galway 45.  Your don't see everything at a match, it surprising looking back on replay, how much you missed. I sometimes wonder, looking back on replay, if its the same match that I was at!
An interesting stastic that I learned too last night. Galway are now the first provincial champions, not to get to the All Ireland quarter finals! A sticky sports question for the next table quiz maybe!
You can view more in depth match debate over on WJ's blog here. Mayo 1-10 to Galway 0-12. Onwards now to Croke Park next Sunday where we meet the Dubs in the All Ireland Quarter Final.
Latest posts by Michael Maye
(see all)