Various Video's Of Swinford Town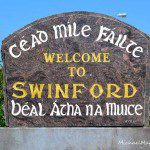 Here are some videos that I recorded around Swinford town. These were all recorded in 2015. I hope to add more recordings in the future. Please do check back again.
Spirit of Place Swinford
Spirit of Place Swinford "The Procession of the Souls" is a memorial dedicated to the history of the Great famine in Swinford Co Mayo. The memorial was designed and constructed by Travis Price and his students from the school of Architecture & Planning/Spirit of Place-Spirit of Design in Washington USA during 2015. The official opening and dedication of the memorial took place on Friday the 10th of July 2015.View more info here.
Swinford Golf Club loop walk
Video footage of the walk around Swinford golf club.