Have you made a submission to the draft Mayo county development plan 2021-2027? Everybody should at least, have a read of the development plan. If you have an opinion, then you should let your voice be heard and make a submission. I've been a strong supporter of having a greenway on the old closed rail route from Collooney to Athenry. Even more so since the progress that Sligo Greenway Co Op have made in recent years, I didn't want to see the greenway end at Charlestown, but want it to continue on to Swinford and hopefully Kiltimagh too. The history of this goes back many years, I think it was 2013 was one of the first public meetings about the proposed greenway that I attended.
The more that I've engaged in the campaign to get the greenway to East Mayo, the more hopeful I am that it will happen, sometime hopefully in the near future. First thing however is to show your support and try and get our local elected councillors on board, which is proving to be quite a difficult task indeed. It needn't and indeed it shouldn't be the case. I've done a lot of research and the more I've learned, the less obstacles that are in the way, only major ones are our Mayo county councillors.
Below is the submission that I've sent in to the draft Mayo county development plan 2021-2027 on the 09/03/21, with regard to the proposed greenway in East Mayo. I'm publishing it here because (at the time of writing) my submission still has not been published on the submissions portal (edit: my submission was published on the portal on the 12/03/21). Why this is I don't know. There are some links in the submission, linking to official documents or reports in support of my submission. Whether this is the reason for my submission to be moderated I don't know, all this information is already in the public domain.
I wish to make the following submission to the draft county plan 2021-2027.
Mayo County Plan Ref : SO 2 . Quality of Life for Citizens and Communities
Swinford thankfully has plenty of amenities for the local community, however walkways and cycleways are very lacking. We have excellent small loop walks within the town environs, but more needs to be done. The footpath at Dublin Rd (Kilbride) needs extending out to the N5 bypass and ideally along the N5 (townside) towards Castlebar to connect with the Kilkelly Rd junction to make a safe walking route for the hundreds of people that use this route weekly. The planned loop walk of the town, connecting historical sites is welcomed, but needs to be expediated.
Mayo County Plan Ref: SO 11. Urban Renewal & Regeneration
This section refers to the council commitment to Urban Renewal & Regeneration. There are numerous closed commercial premises on both Main St and Market St in Swinford. The council should incentivise these premises to reopen.
Mayo County Plan Ref :TVHP4
There are numerous buildings with living quarters upstairs within the town centre. Surely these could be converted to town apartments through some sort of grant scheme?
Mayo County Plan Ref : TVHP7
The council itself owns the building on Market St "Great Escapes" which was planned for redevelopment. The council should be showing the lead here on what could be achieved!
Mayo County Plan Ref : SO 12. Integrated Land Use & Transportation Planning
This section promotes and prioritising walking and cycling. There is a huge land bank, that is in public ownership that can quite easily be converted to a walkway and cycleway. This route goes right through the centre of Swinford, it connects Collooney in Co Sligo to Athenry in Co Galway. Sligo Co Co are currently planning to build a greenway from Collooney to Charlestown. Galway Co Co are undertaking a feasibility study to build a greenway from Athenry to Milltown. Mr Jim Meade CEO of Irish Rail, at a recent committee meeting (16/02/2021) explained to Dara Callery TD and Alan Dillon TD that they would like to see a greenway built on the route to protect and keep it in public ownership. However he made clear that it is Irish Rail policy to only grant usage license to the local council, and on the provision that rail takes priority if ever needed in the future. This is a "WIN/WIN" he stated. Transcripts from that committee meeting can be downloaded from the link below.
https://www.oireachtas.ie/en/debates/debate/joint_committee_on_transport_and_communications_networks/2021-02-16/
A video clip from the relevant section of the meeting can be viewed here;
Mayo County Plan Ref : TRP 4
(a) Encouraging investment in the tourism industry in the county with specific reference to leisure activities (including walking, cycling, equestrian and family focused activities), including connectivity to the Great Western Greenway at Castlebar to Westport and to the Wild Atlantic Way.
(c) Supporting the development of new and emerging tourism products and facilities or upgrading/extension of existing tourist facilities at tourist sites within the county, within proper planning and sustainable development principles.
Mayo Co Co needs to work in conjunction with Sligo Co Co to extend their greenway at least to Swinford, ideally to the N5 at Lislackagh. This could then be extended on to Turlough along the N5 to connect to the Great Western Greenway. Funding is there for this, Irish Rail want the council to apply for the licence, there are no CPO's required. This would potentially connect Enniskillen to Achill. A "WIN/WIN" for everyone.
This also applies to sections SSP 6 "To support the creation of healthy and sustainable communities that encourages and facilitates walking and cycling and general physical activity through the implementation of best practices in urban design that promotes permeability and interconnecting spaces." and SSP 7 To promote the integration of land use and transportation policies and to prioritise provision for cycling and walking travel modes.
Mayo County Plan Ref : TRP 9
To support the implementation of the strategy for Greenway development in Ireland
– "Strategy for the Future Development of National and Regional Greenways" in relation to the development and extension of greenways throughout the county, in conjunction with the Tourism section of Mayo County Council and other relevant stakeholders.
Mayo County Plan Ref : TRP 10
To promote Mayo as a premier walking/cycling destination in the Country and support the further development of walking routes and trails within the county and the integration and linkage of these with other existing / proposed routes and trails both within and outside of County Mayo, in accordance with national walking strategy guidance and in conjunction with the Tourism Section of Mayo County Council, Fáilte Ireland and other relevant stakeholders. Opportunities to enhance ecological connectivity should be integrated as part of any linking of routes to strengthen and support green infrastructure.
A Greenway on the closed rail route from Charlestown to Ballindine would correct the imbalance in East Mayo, and identifies perfectly with Ref TRP 9 & TRP 10 of the county development plan. Working in conjunction with Sligo Co Co, this would cover a huge section of the national development plan on walking and cycling network. It would connect the great western greenway all the way from Achill to Enniskillen.
Mayo County Plan Ref TRP 13 states;
To work with the National Transport Authority, Fáilte Ireland, Waterways Ireland and all stakeholders to develop a coordinated approach to the selection, delivery and servicing of future greenways, blueways, trails and routes throughout the county.
Mayo County Plan Ref : TRP 17 states;
To support developments which will enable and encourage countryside recreation in appropriate locations to foster and an increased appreciation of, and access to, the natural environment.
REGIONAL SPATIAL AND ECONOMIC STRATEGY 2020-2032
The REGIONAL SPATIAL AND ECONOMIC STRATEGY 2020-2032 on page 202:
The SFDNRG will provide the framework for the future development of Greenways and enable the best outcomes for state investment in this area. It should be acknowledged that presently there are no dedicated long-distance, or short distance, cycling/greenway routes which link Northern Ireland with the Republic. A Regional and intra-Regional cycleway network would support the expansion of the Western and Northern Region as an attractive destination for tourists, potentially linking and extending several existing Greenway Projects (see Figure 55) that are in operation, or in planning on an All Island basis, which includes the following key projects:
> The Great Western Greenway (Mayo County Council): 42km Westport – Achill. Stage: Operational, Constructed along disused Balfour Railway Line.
> SLNCR (Sligo Leitrim Northern Counties Railway) Greenway.
> Collooney to Athenry Greenway (aka Quiet Man Greenway).
Boyne Valley to Lakelands (Navan to Kingscourt).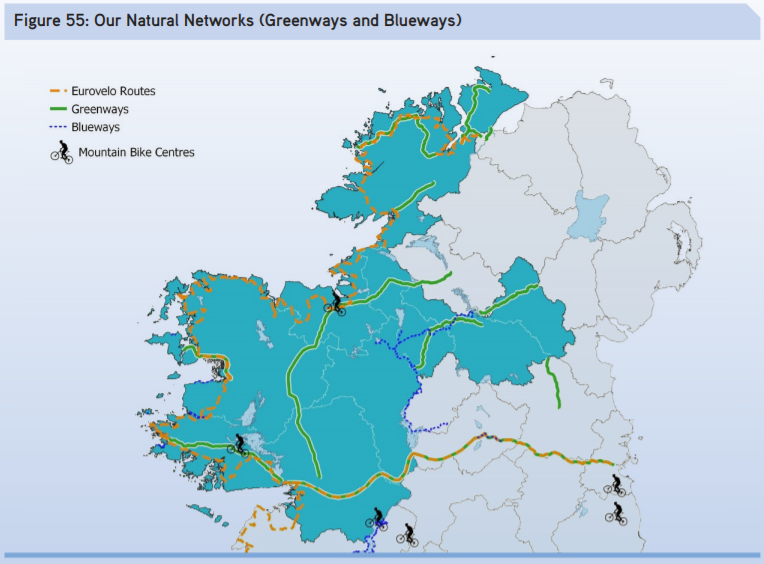 Fig 55 above clearly shows the proposed East Mayo Greenway connecting up with the Sligo Greenway from Collooney to Charlestown and on to Swinford and Kiltimagh and connecting up the the proposed Athenry to Milltown greenway, on the route of the CLOSED railway route.
Regional Policy Objectives
I would also like to bring to your attention, on page 222 of the REGIONAL SPATIAL AND ECONOMIC STRATEGY 2020-2032, RPO 6.11 which states:
To seek commencement and completion of the review of the Western Rail Corridor project as a priority for passenger and freight transport.
These reports have been completed and published by the Department of Transport in January 2021. Both the EY report and Jaspers reports without any doubt, confirmed the WRC is not viable. These reports did not even consider north of Clarmorris which is highly unlikely to ever be needed for rail in the future. Irish Rail have already issued a usuage license to Mayo Co Co for the velorail project in Kiltimagh Ref MTO 18. There is nothing to stop Mayo Co Co for seeking a similar usage licence for a greenway on the route. Both the EY Consulting and Jaspers European Investment Bank reports can be found on the Department website here; https://www.gov.ie/en/publication/1174d-review-of-western-rail-corridor-phases-2-and-3-athenry-to-claremorris/
Reference incorrect wording in Draft plan
With reference to the western rail corridor, the word "disused" rail line is incorrect. Irish rail states either "Abandoned" or "Closed" line. The western rail corridor is classed by Irish Rail as "Closed".
Image>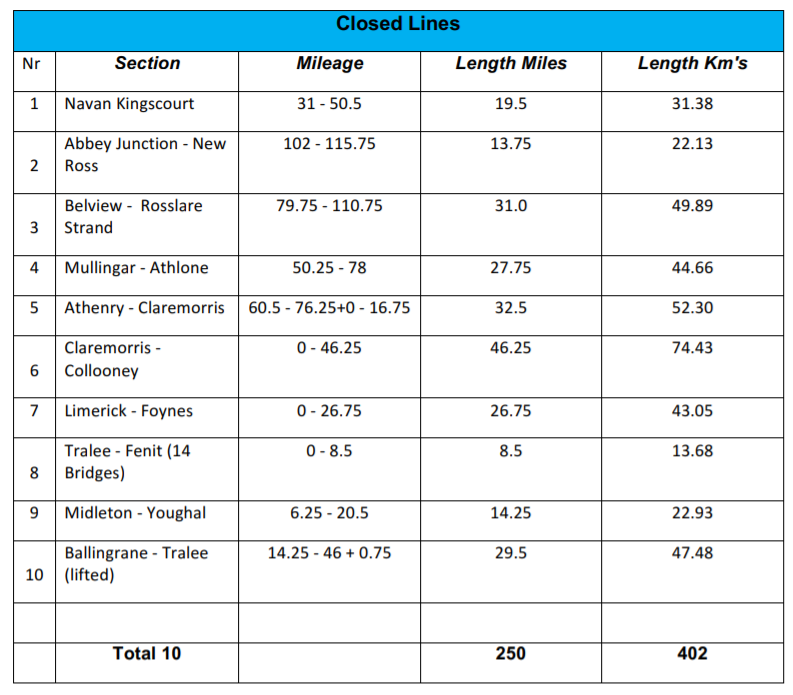 Incorrect term "Discussed".  The Correct term is CLOSED.
Page 109 of the 2016 Rail Review Report (link below) states:
Definition of Closed and Abandoned Lines."A closed line is one in which the CIÉ/IÉ Board is relieved of its obligation to operate trains, but all other statutory duties remain, including maintenance of accommodation works, drains, fences, bridges level crossings etc. An abandoned line is one which, under section 21 of the 1950 Transport Act, an abandonment order has been made by the Board. There are 10 Closed Lines on the network with 387 bridges. There are some 80 Abandoned Lines with 1107 bridges in varying forms serving differing purposes throughout the Network. There are a number of these lines where the actual ownership has not been fully ascertained. Closed and Abandoned lines represent a significant risk and responsibility to CIÉ."
Please see page 115 of the 2016 Rail Review Report at the link below.
https://www.nationaltransport.ie/wp-content/uploads/2016/11/151116_2016_Rail_Review_Report_Complete_Online.pdf
I would like to thank Mayo Co Co for accepting my submission and would hope it is taken into consideration.
Michael Maye.
Latest posts by Michael Maye
(see all)