Busy Week – Project 52 #31
This past week has been one mad busy week! On the August bank holiday we have our annual Síamsa Sráide here in Swinford, this year is the 30th anniversary of the festival. A new addition this year to the festival is the Bláith Ná Féile, a preliminary round of the Mayo Rose, which I was asked to photograph. Then on Sunday we had the Mayo senior and minor teams playing in Croke Park in the All Ireland quarter finals. We were also busy with Swinford Tidy Towns, out twice daily, 10 am and 7 pm from Saturday to Thursday. And to top all that off Swinford was entered into this years Pride of Place where the judging took place last Tuesday, having been part of the committee for the last month.
In all I have taken approx 1178 photos since last Saturday evening and am only about 3/4 of the way through processing them. I am only beginning to catch up with things here now. This past week has reminded me of the busy week we had on our trip over to New York for the Mayo match last May. One of the days there we did a load of sightseeing on foot. We walked for miles, soaking up the atmosphere, ending up at the High line in Chelsea on the lower westside of Manhattan. We took a rest here at one of the Murals, I think this sums it up perfectly how I feel this week!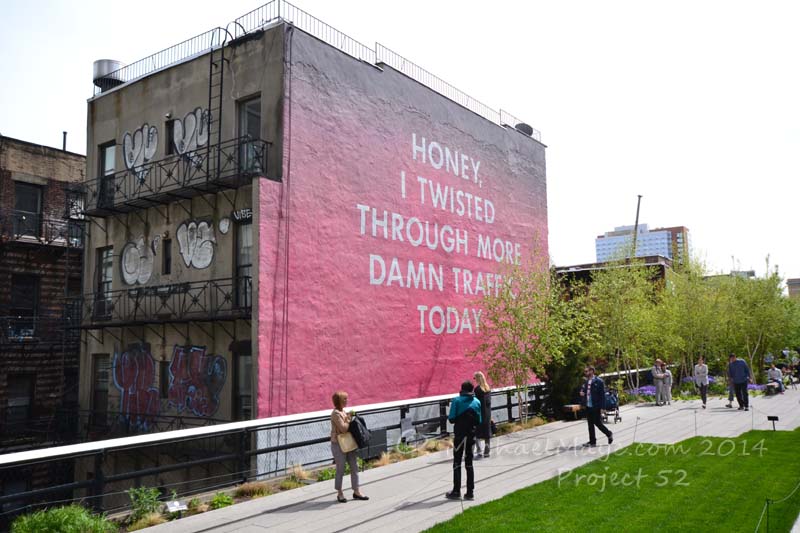 Photo: f/10, 1/250 sec, ISO-400, @20mm.
Latest posts by Michael Maye
(see all)