2017 Paddy Bollingbrooke Tournament Final
The 2017 Paddy Bollingbrooke tournament final took place today. I managed to get there just in time for the 3pm throw in! In the final this year were Pauline Gallagher and Ollie Cassidy playing against George Miller and Peter Cassidy. I managed to get some shots of the action, along with some video as well as doing a bit of live streaming for the club page. The final was the best of 3 games. Pauline and Ollie won the first 2 games winning (scoring I think) 21 – 16 in the first and 21 – 10 in the second.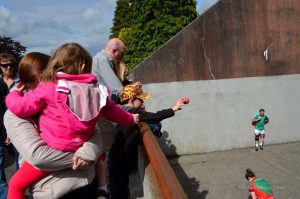 The competition was fierce today and there were a few shots that went astray! Luckily there were some lively young ball boys on hand to find the lost handball and return it to the players!
We were very lucky with the weather too. Stayed dry thankfully but got very hot during the match!
Trying to find a stray ball or cool down?! Good man Ollie, great to see chivalry still alive!!
Click photo to begin slideshow.
Paddy Bollingbrooke Tournament Final Video
To see previous tournaments from Swinford handball club, visit their website or see their youtube channel, give them a like or follow on their facebook page.
Latest posts by Michael Maye
(see all)