Autumn sunset – project 52 #35
It looks like the summer is back again, we have had some brilliant days here in the west, with more to come for the next few days! Unfortunetly the months are pushing on and the evenings are getting shorter.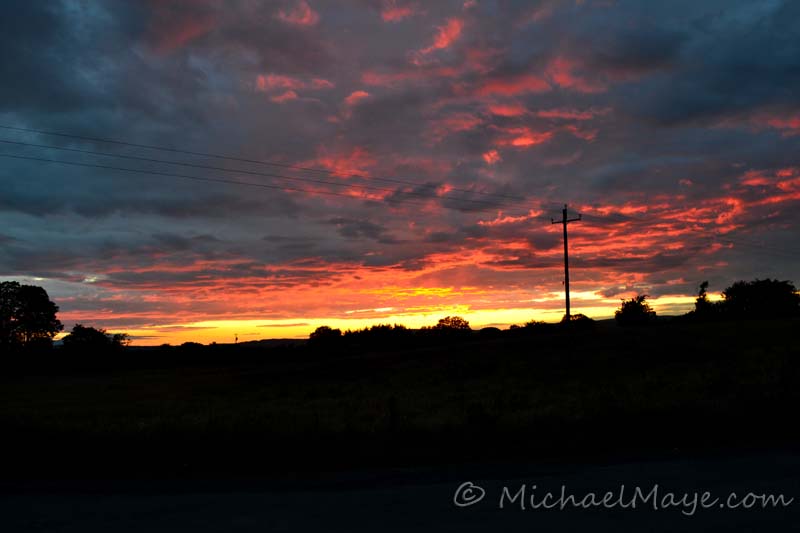 Photo: f/7.1, 1/30sec, ISO-400, @18mm
Meanwhile a bit further away, on the Sun, there was a massive x-class CME on Wednesday afternoon which should be hitting Earth Friday night / Saturday. CME's when they hit Earth are what cause's the Aurora at the north and south poles. The larger the CME, the further away from the poles the Aurora or ("Northern Lights" as they are more commonly known) are visible. The Aurora should be visible as far south as Cork this weekend, if the sky is clear.
I have been trying to get a shot of the Aurora for the last 3 years as there have been numerous x-class flares recently. Unfortunatally every time there has either been too much cloud cover, fog or once on a clear night the moon was too bright! Hopefully I'll have better luck this weekend.
Photo taken in County Tyrone in 2013 when one of the last x-class flares hit Earth, KP-8 if I remember correctly. Photo by Tyrone Skies .Com.
Alert from Space Weather:
Space Weather Message Code: WATA50
Serial Number: 50
Issue Time: 2014 Sep 11 0459 UTC

WATCH: Geomagnetic Storm Category G3 Predicted
Highest Storm Level Predicted by Day:
Sep 12: G2 (Moderate) Sep 13: G3 (Strong) Sep 14: G1 (Minor)
THIS SUPERSEDES ANY/ALL PRIOR WATCHES IN EFFECT

Comment: Upgrading the Watch for 13-14 Sep due to anticipated effects from the CME associated with yesterdays R3 (Strong) event.
Potential Impacts: Area of impact primarily poleward of 50 degrees Geomagnetic Latitude.
Induced Currents – Power system voltage irregularities possible, false alarms may be triggered on some protection devices.
Spacecraft – Systems may experience surface charging; increased drag on low Earth-orbit satellites and orientation problems may occur.
Navigation – Intermittent satellite navigation (GPS) problems, including loss-of-lock and increased range error may occur.
Radio – HF (high frequency) radio may be intermittent.
Aurora – Aurora may be seen as low as Pennsylvania to Iowa to Oregon.
Latest posts by Michael Maye
(see all)