Its hard to believe that we are nearly halfway through the 2013 Allianz football league.After Mayo's fairly handy win over the kingdom in Mc Hale park in round 1, which I had predicted in a previous post, our bubble was well burst by Tyrone.
Tyrone came to town for round 2 of the league and had different plans for Mayo. Although I thought that it would have been a closer match up between the two, Tyrone came out of Castlebar that day with the two points with them in their kit bags! Tyrone were the deserved winners though, having played far better football for more than 50 minutes of the match.
Mayo came back in the last 10 minutes and played brilliant football. Mayo could have snatched it at the end and were it not for some of the ref's decisions, Mayo would have won. A Mayo win on the day would not have be justified in my opinion, Tyrone were deserved winners.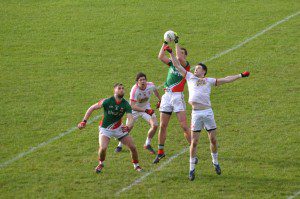 Round 3 of the league brings us back up to HQ Croke Park, to play Dublin at home. Its a match that I don't think that we'll win. Dublin are a lot further ahead of us since the start of the year, and with 4 points under their belts and looking for revenge for Mayo's performance against them last year, I would expect a Dublin win. Dublin had a good performance against Cork, beating them by 6 points in the first round. They had a more convincing win over a depleted Kerry team, beating them by 10 points in the second round of the league.
Croke Park beckons next Saturday evening and I'm looking forward to the match. It'll be the first match I've been at under lights in Croke Park and should be a lot easier to get photos of the action than it was under lights on a cold January night in Ballinrobe! As usual I will have all the photos uploaded to the photo gallery, though it will be late Sunday evening before I get them up. We will be staying in Dublin Saturday night and I intend to do the stadium and museum tour of Croke Park on Sunday morning. I'm looking forward to getting some photos of Croke Park that a supporter wouldn't get on a match day. I was hoping to do the Skywalk as well, along the roof of the Hogan Davin Cusack stands and get some photos of around the city, but they won't allow my up to do it while I'm in crutch's. I'll have to go back another time to do the Skywalk!
Edit: Good look back at past encounters between Dublin & Mayo here on gaa.ie.
Latest posts by Michael Maye
(see all)