The Toughest Trade TV Documentary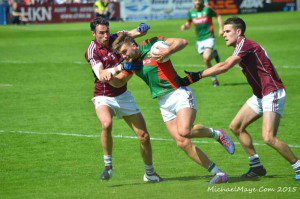 Mayo gaa's Aidan O Shea is taking part in The Toughest Trade TV documentary, which is being filmed by AIB the main sponsors of the Club Championships. This is the second season of the toughest trade, the first series having been filmed last year. This is to be honest, the first time that I've heard of this! Last year, Kilkenny hurler Jackie Tyrell, former Armagh player Aaron Kernan, former England international player David Bentley and famous baseball player Brian Schneider took part in the toughest trade.
The idea behind the programme is from what I can gather, to swap roles of professional and amateur athletes for a week. For this years series our Aidan is swapping roles with former Miami Dolphins American Football NFL player Roberto Wallace. Last Saturday at the Mayo v's Dublin match who happened to be sitting 3 rows in front from me in MacHale Park, yip, Roberto! Now I hadn't a clue who he was at the time, I'm not a fan of American football. The camera's were on him all through the match, which of course raised my curiosity! Asking around a few Mayo fans, no one seemed to know who he was. I had a few people on the case and thanks to Neil for the pointer in the right direction, I found out who Roberto is!
When he moved down a few seats beside An Taoiseach Enda Kenny to ask about the rules of GAA, I took the chance to nab a few photos! Roberto arrived in Mayo last weekend and will be based with the Breaffy GAA club for the week. Aidan flew out to America on Sunday, the day after our league match with Dublin. Aidan will also spent a week with an NFL club, which one I'm not sure of at the minute. It seems to be a closely guarded secret! We will no doubt find out. The programme The Toughest Trade is scheduled to be broadcast on St Patrick's day before the All Ireland Club Finals in Croke Park.
Latest posts by Michael Maye
(see all)