On the last night of our recent New York trip, most of the gang had booked to a Broadway show Mama Mia. Broadway shows aren't really my cup of tea so I headed up to Times Square to get some night shots.
Photo: f/22, 2 sec, ISO-200, @10 mm.
I was limited with the gear I had with me. I stuck with my sigma f/4 10-20 wide-angle lens but I left my tri pod at home to save on lugging a heavy kit bag around New York! I had to improvise and use a trash can to mount the camera on to eliminate camera shake. The shot above is looking up Broadway as it was starting to get dark. It took me about 10 attempts to get the shot above and shortly after I was told to move by a NYC worker as I was blocking the sensors on the rubbish bin that I was using to mount the camera. Seemingly their 'trash cans' are monitored by satellite, I kid you not! I'll have to look into that one for the tidy towns!
Photo: f/22, ISO-200, 0.62 sec, @10 mm.
I moved further down to the other end of Times Square to get the shot above. I found a little island in the middle of Broadway with the traffic zooming by each side of me. Anyone that has been in Times Square will know how bright it is at night. So bright in fact it can be seen from space! The big neon screens change colour and brightness every couple on seconds, which makes getting the shot that I wanted all the more difficult. I spent over an hour alone in this position, waiting for the traffic to move between lights and the signs to change!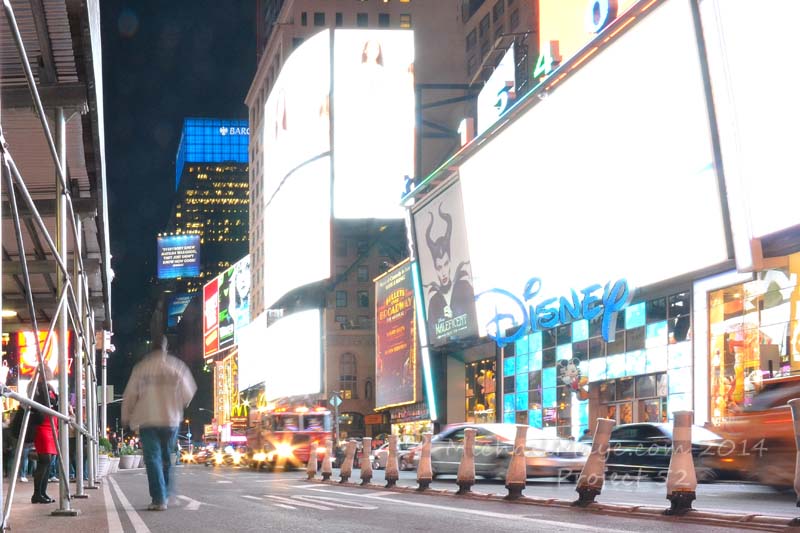 Photo: f/18, 1/3 sec, ISO 800, @10 mm.
Example above of how bright the neon signs were every couple of seconds.
Latest posts by Michael Maye
(see all)